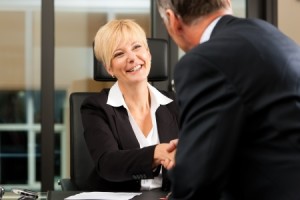 When looking at the issue of whether to settle a claim with an insurance company without the benefit of the advice of a Tulsa car accident attorney, you want to make sure the claim is straightforward with little or no complicating factors involved.
If the culpable party's insurance company completely covers your property damages and there are no injuries involved, it may be fine to settle a claim without the benefit of an Oklahoma personal injury attorney's advice.
In almost all other cases, it is best to at least seek the advice of a Tulsa car accident attorney before accepting an offer to settle a claim.
And if the injuries are extensive, or if recovery from injury is prolonged or complicated, it is best to hire a Tulsa car accident attorney to represent your interests in negotiating a settlement.
Remember that when you settle a claim, you settle all the matters that arise out of that accident. Thus, if you have injuries that continue into the future, those must be accounted for and adequately compensated in the settlement.
Car Accidents Happen
We don't want to think about it, but statistically, if you drive, eventually, you will be involved in a car accident.
According to the Oklahoma Highway Safety Office, in 2014, in Tulsa alone there were 8,513 automobile crashes. In 2014, there were 68,327 crashes statewide, with 22,673 of them reporting injuries.
Traffic accidents run the gamut in terms of property damage and physical injury. The more violent and intense the accident, often the more physical injury involved.
But even a minor accident can result in fairly significant injury and loss of earnings and earning capacity. Likewise, there are some traffic accidents that result in little or no injury.
When a Tulsa Car Accident Attorney Can Help
The more complicated the injury, the more complicated the claim itself. Surgery or prolonged recovery always signals a more complicated claim.
A complicated claim for personal injury arising out of a traffic accident can involve current and future losses such as: medical bills, pain and suffering, physical therapy, lost wages, and loss of earning capacity. All of these damages need to be sufficiently proven for the insurance company to include them in a settlement.
An experienced Tulsa car accident attorney will know what you need to prove and how to best present your case to the insurance company involved.
Free Consultation:  Tulsa Car Accident Attorney
To get help after a Tulsa car accident, contact an Oklahoma personal injury attorney at the Personal Injury Law Office of Tulsa today.
For a free, no-obligation consultation, call 918-924-5528 or send your question using the email form on this page.