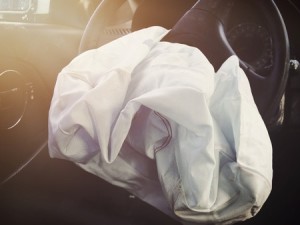 We live in a world of manufactured products. From the moment we open our eyes until we close them at night, almost everything we see, touch, and use in our everyday life in Tulsa, Oklahoma is manufactured.
Along with that comes the issue of product defects. When a product is defective for its intended purpose or when it poses a danger to life, it is considered to be defective. Takata airbags have proven to be both.
Takata Airbags, Pervasive and Deadly
The Japanese manufacturer Takata Corporation began making airbags for automobiles in 1988. Millions of cars have been fitted with Takata airbags.
In 2013, automobile manufacturers began recalls for these defective Takata airbags. Takata reacted slowly.
The defective airbags used ammonium nitrate to inflate its airbags, which degraded over time. The inflating devices can deploy improperly and with too much force, causing them to rupture and spray sharp metal pieces into the occupants of the vehicle.
Over 100 people have died or been injured as a result. Tens of millions of automotive vehicles are being recalled in the biggest recall in automotive history.
Additional Considerations
There have been allegations made that Takata knew about the defective airbags long before the recalls were issued. If so, their knowledge and failure to take immediate action to notify the public of the dangers involved could expose the company to punitive damages in litigation.
In 2015, the U.S. National Highway Traffic Safety Administration issued a record civil penalty of at least $70 million to Takata for its failure to cooperate fully in the investigation into the defective airbags.
Free Consultation:  Tulsa Car Accident Attorney
To get help after a car accident in Tulsa, contact an Oklahoma personal injury attorney at the Personal Injury Law Office of Tulsa today.
For a free, no-obligation consultation, call 918-924-5528 or send your question using the email form on this page.