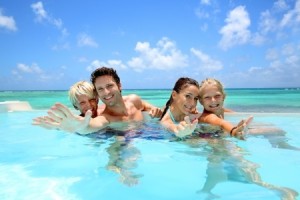 One of the most frightening situations a parent can face is when a child is injured during what was supposed to be a fun-filled day at the pool in Tulsa, Oklahoma.
Even if a child is not killed in a near-drowning incident in a pool, permanent brain damage, memory problems, and/or learning disabilities may result from swimming pool injuries in Oklahoma; this can cost millions of dollars in therapy and rehabilitation for the remainder of the child's life. How is a parent to pay for such expenses?
If your child has been permanently harmed due to swimming pool injuries in Oklahoma, your child may be entitled to compensation if the owner breached his duty of care and failed to maintain or watch the pool as required by state law.
Who Can Sue Over Swimming Pool Injuries in Oklahoma?
Can your child file a lawsuit or collect in a settlement to recover for his or her injuries obtained in a swimming pool? If your child is under the age of 18, no, he or she cannot. A child under the age of 18 is a minor, and may not file a lawsuit, as he or she may not enter into a contract nor hire an attorney.
However, you, as your child's parent and guardian, may file a lawsuit against the owner of the swimming pool (or other possible defendants) on your child's behalf, often called a "friendly lawsuit" in Oklahoma. Your legal status on the lawsuit will be "next friend" or "guardian ad litem" of your child.
While the attorney will consider your child to actually be his client, you will be signing the paperwork and attending all court hearings with your child.
Still, any funds received in settlement or received from a judgment will be considered as belonging to your child, not to you. The funds will be deposited into an account that you cannot access and that your child will not be able to withdraw until he or she is 18 years old.
Additional Legal Considerations
If you do not wish to file a lawsuit on behalf of your child, the statute of limitations will be tolled for your child's case until one year after his or her 18th birthday.
That means that the deadline to sue for your child's swimming pool injuries in Oklahoma will be stalled, and he or she will be given the opportunity to bring the personal injury case forward as an adult.
Free Consultation:  Tulsa Swimming Pool Accidents Attorney
To find out if your child might be entitled to recover for swimming pool injuries in Oklahoma, contact the Tulsa swimming pool accidents attorney at the Personal Injury Law Office of Tulsa today.
For a free, no-obligation consultation, call 918-924-5528 or send your question using the email form on this page.