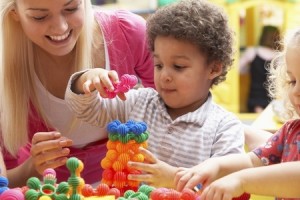 You trusted the teachers at your child's daycare in Tulsa, Oklahoma to keep her safe while you worked your eight-hour shift.  However, the teachers failed to supervise her adequately, and now she is injured.
What is your next step?  Can you file a claim? Is there anything a Tulsa injury lawyer can do to help you and your family?
Tulsa Injury Lawyer:  Did I Sign Away My Child's Rights in a Release Form?
Many daycare centers demand that all parents sign a liability release form before a child is permitted to attend the facility.  Have you signed away your child's rights to seek compensation for any personal injuries in Oklahoma?
Most courts would say, no.  Courts typically determine that a parent seeks childcare to earn an income and pay for food and shelter; therefore, the parent is often given no choice but to sign the liability release form for the childcare facility.  An Oklahoma court will often find that the form does not release the childcare center from liability for injuries that a child obtains at the facility.
Tulsa Injury Lawyer:  Bringing a "Friendly" Claim for Your Child.
Since your child is under the age of 18, she is a minor and will be unable to bring the claim on her own behalf – you will have to do that for her.
You will do this as a "guardian" under what is known as a "friendly" suit in Oklahoma, meaning that you are filing the suit or claim on behalf of your child. Generally, you need the assistance of a Tulsa injury lawyer to complete this process.
Tulsa Injury Lawyer:  Does My Child Have a Negligence Claim?
The first step in establishing that your child has the right to be compensated for injuries received at her daycare is showing that the daycare facility was negligent in their care of your child and that their negligence caused her injuries.
To prove that the daycare was negligent, you must first show that it owed your child a duty of care.  Here, the duty of care would be that of a reasonable, prudent daycare facility in the state of Oklahoma.
The daycare would be expected to follow the licensing requirements listed by the Oklahoma Department of Human Services for childcare centers within the state. Additionally, the staff would be expected to behave in the same manner that staff of other daycare centers in the state would behave.
Next, you would have to show that the facility and/or staff breached their duty of care and that the breach was the direct and proximate cause of your child's injury.  For example, it is not only a requirement under Oklahoma licensing requirements but a common procedure for daycare teachers to always have an adult remain in the room to observe children ages two and under at all times.
However, if your one-year-old is injured from falling off a changing table because she was left in a room with no adults for 10 minutes, then you can probably show that the facility breached its duty of care towards your child.
If your child breaks her arm as a result of the fall, then you can most likely show that your daughter's injuries were directly and proximately caused by the staff member's breach of her duty. Why? Because if she had been supervising your child as her duty required, your child would not have fallen off a tall piece of furniture and been injured.
Another step in establishing negligence in Oklahoma is whether the injury is foreseeable.  In the example we've given here, it would be foreseeable that leaving a group of one-year-old children unsupervised might result in at least one child climbing furniture, falling off that furniture, and injuring him or herself.
Lastly, to establish negligence in Oklahoma, you must show damages.  This means you have to prove an injury of some sort. Using our example above, medical bills and records showing the costs and diagnosis of your daughter's broken arm are great evidence of damages.
Tulsa Injury Attorney:  Does My Child Have a Prima Facie Claim?
The Oklahoma Department of Human Services requires all childcare facilities to meet minimum requirements in order to receive a license in order to operate within the state. These requirements, include, but are not limited to, guidelines regarding:
Child/staff ratio;
Location, accessibility, and operation of kitchen and bathroom facilities;
Safety and sanitation;
Emergency preparedness;
Indoor and outdoor play spaces;
Lesson plans;
Media use; and
Food and nutrition.
If the injuries to your child were caused by violations of these minimum licensing requirements, you can establish a "prima facie" case against the daycare facility.
This means that you have a negligence case at first glance, until proven otherwise, because the daycare has violated the conditions imposed upon them by the state to remain in operation.
Free Consultation:  Tulsa Daycare Injury Attorney
To find out if your child might be entitled to compensation for injuries obtained from a daycare facility, contact the Personal Injury Law Office of Tulsa today.
For a free, no-obligation consultation with a Tulsa personal injury attorney, call 918-924-5528 or send your question using the email form on this page.