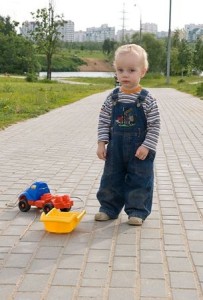 First of all, a Tulsa parent or guardian cannot be compensated for a child's injuries caused by a defective toy in Oklahoma; however, a child can be compensated for his or her injuries.
Defective Toy in Oklahoma Legal Facts
In Oklahoma, a parent can file a civil suit on behalf of a child via a "friendly" lawsuit.  This means that any settlement or judgment money will be kept in an account and reserved solely for your child until he or she turns 18 years old.
The type of claim filed by the victim of a defective product is called a products liability claim.  There are a number of possible defendants in a claim regarding a defective toy in Oklahoma.
The retailer (seller/toy store);
The wholesaler or distributor (middleman);
The manufacturer of the toy;
The manufacturer of parts in the toy; and/or
Quality control engineers.
Additional Considerations
To prove a products liability claim in Tulsa, the plaintiff must show that:
1) the defendant sold the product in the ordinary course of business;
2) that the product was in a defective condition when sold; and
3) that the product was unreasonably dangerous when used for its intended purpose.
Then, the plaintiff has to establish that he or she used the product for its intended purpose and that he or she was injured because of the defect.
Here, if the parent or guardian can show that the toy was sold in a defective condition so that it would cause injury when used for its intended purpose – play –  and it caused injury to the child during normal play, then there is most likely a viable products liability claim.
Products liability claims oftentimes require experts in scientific and mathematical fields to testify regarding the product's defect and what would constitute a non-defective toy in Oklahoma.
Free Consultation:  Tulsa Defective Products Attorney
To find out if you might be entitled to compensation for injuries that resulted from a defective toy in Oklahoma, contact the Tulsa defective products attorney at the Personal Injury Law Office of Tulsa today.
For a free, no-obligation consultation, call 918-924-5528 or send your question using the email form on this page.