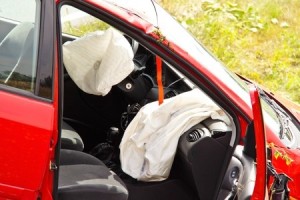 After an automobile accident in Tulsa, Oklahoma, if the driver of the other car indicates that he is driving his employer's vehicle, who do you contact to pay the medical bills for your personal injuries?
The issue of who pays for injuries in a company vehicle accident in Oklahoma is somewhat complicated to navigate.
Who Pays in a Company Vehicle Accident in Oklahoma?
First of all, you need to determine if you are partially at fault for the car accident in Tulsa. A consultation with a Tulsa personal injury attorney can help you make that determination.
However, a really quick way to do that before meeting with your attorney is to look at the police report. Does the officer assign any fault to you for the accident?  If so, you may be responsible for some of your own expenses.
Oklahoma is a modified comparative fault state. This means that you cannot recover for injuries if you are 51 percent or more at fault in an accident.  If you are 50 percent or less at fault, you can recover, but your recovery will be reduced by your percentage of fault for the accident.
After your Tulsa car accident attorney has determined whether the other driver is at fault and whether it is possible to make a claim against him for at least a percentage of your injuries, most likely your attorney will seek a settlement against both the driver and his employer.
Additional Considerations
In Oklahoma, an employee driving a company vehicle is not considered to be on company business if he is travelling to or from work in that vehicle or is travelling to or from work during his lunch hour.
If an employee is not on company business when he gets into an accident, the company and its insurer is not responsible for the company vehicle accident in Oklahoma.
Most likely, the employee's attorney and his employer's attorney will have to work out who is liable for your injuries. The employee may argue that he was doing an errand for his boss when he struck your car; the employer may argue that the employee was on a direct route to his home after the workday had ended when the accident took place.
If they cannot reach an agreement, the employer and employee may have to take the issue to mediation or to court.
Free Consultation:  Tulsa Car Accident Attorney
To get help determining who is liable after a company vehicle accident, contact an Oklahoma personal injury attorney at the Personal Injury Law Office of Tulsa today.
For a free, no-obligation consultation, call 918-924-5528 or send your question using the email form on this page.