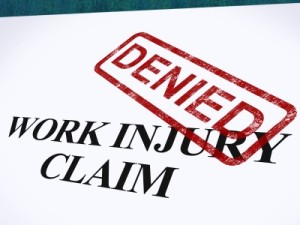 Every day, workers in many industries put themselves at risk. While some jobs certainly carry more risk than others do, job related injuries could be directly caused by the performance of one's duties or by unforeseen accidents on company time or job sites. No matter what the industry, on the job injuries account for struggles and major changes, including lost wages, long-term medical treatment and rehabilitation, and even permanent disability.
On the job injuries can be catastrophic for you and your family. Between the medical care and physical therapy often required, as well as loss of income during your recovery, and other needs or losses, the expenses and stress can add up. If you're injured at work, you deserve the peace of mind of knowing your medical bills will be taken care of and you and your family can get by despite your time off from work.
As long as your employer carries the requisite workers compensation insurance, and the insurance company lives up to their promise to honor the claim, you have little to worry about except recovering and getting back to work. Unfortunately, workers compensation is not as simple as it sounds, and when a workers compensation claim is wrought with frustration and complications, the expertise of an experienced Tulsa workers compensation attorney can help you to get the benefits you deserve.
Oklahoma Worker's Compensation
If you are the victim of a work injury or accident, the Oklahoma Workers Compensation Act entitles you to benefits for medical treatment, rehabilitation, weekly pay, and permanent disability, should full recovery be impossible. Your employer's insurance company, regardless of the industry (with only a few exceptions) typically pays these benefits. No matter what the type of injury, workers compensation benefits cover it, and there is no waiting period before benefits can begin. Many injured workers fail to realize that almost all injuries are covered, including:
Injuries caused by frequent and repeated strain
Hearing or vision loss
Lung injuries
Heart attacks and strokes (caused by the mental or physical stress of the job)
Hernias
Dismemberment and disfigurement (including scars)
Any other impairing or catastrophic injury
Workers compensation eligibility kicks in the first day of your employment. If your benefits are denied because of the type of injury or you feel you are being treated unfairly or having any doubts about your coverage or the insurance company's action, it is important to consult an experienced Tulsa workers compensation attorney to find out if you have a case and if further action or information could change the outcome of your claim.
Oklahoma Workers Compensation Facts
Your injury does not have to be caused by a single incident to qualify for workers compensation benefits.
Pre-existing injuries and/or re-injury does not bar you from benefits.
Your employer or their insurance company may choose your initial physician; however, you have the right to pursue a change to the doctor of your choice, regardless of the fact that workers comp is paying your medical bills.
While there is no waiting period for benefits, the weekly income aspect of workers compensation requires three or more days off work with these benefits beginning on day four.
If an injury is classified as "soft-tissue," your weekly benefits can be limited to 8-weeks. Do not accept this classification, sign any agreements, or accept any settlement offer without consulting an attorney.
You should report your injury to your employer as soon as possible, and your workers compensation claim should be filed promptly to begin receiving benefits. Generally, you should file your claim within two years to avoid losing your right to file. Sometimes, this filing period can be extended. It is important to consult an attorney to ensure your rights are understood and protected.
You cannot be fired from your job for filing a workers compensation claim.
Free Consultation: Tulsa Workers Compensation Attorney
If you've been injured on the job and feel you are being treated unfairly by your employer or their workers compensation provider contact the Tulsa Personal Injury law firm to discuss your claim and to find out if further action can be taken to recover the benefits you deserve. Work-related injuries might cause some interference and inconvenience in your life, but they do not have to leave your life in ruins. For a free consultation and confidential case evaluation, contact the experienced Tulsa workers compensation attorney at Tulsa Personal Injury Law today. Call (918) 924-5528, toll free at (888) 447-7262 or send us your inquiry using the form on the right side of this page. A denial is not the end of your claim. Let us help you get the workers compensation coverage you were promised and are entitled to.