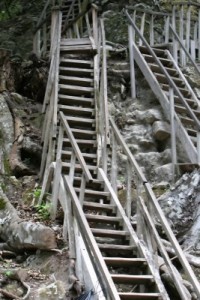 No matter where we go, life is never completely free of problems or risks. But the carelessness of others can make public areas — stores, parking lots, sidewalks, swimming pools and entertainment areas — more dangerous than they should be. If you were injured while using or visiting such areas due to someone's negligence, you should get in touch with an experienced Tulsa attorney skilled in premises liability matters at the Tulsa Personal Injury Law Office.
You might have tripped or slipped due to torn carpeting or improperly maintained stairs or walkways, or been hit by an object falling off a high shelf in a store. Perhaps you were bitten by a neighbor's dog, injured in a parking lot, or hurt in a faulty elevator. Premises liability claims can arise in many different ways, but in each case, your injury was due to someone else's failure to exercise the proper care to prevent or repair dangerous conditions.
Take for example, slips and falls, the second most common cause of injuries in the US, causing an estimated 16,000 deaths annually, plus countless injuries. More than 70% of these incidents are caused by environmental hazards or dangerous conditions, like uneven or slippery floors or sidewalks.
The Duty to Exercise Reasonable Care
In public settings, such as a shopping mall, the property owner has the duty to use reasonable care in the maintenance and operation of the area. That includes making reasonable inspections of the property to find and fix conditions posing unreasonable risk of injury to others, and may also require warning of such hazards.
Every year, about 4.7 million people in the US are bitten by dogs, and about one in six requires medical treatment. Dog owners have a legal duty to control their pets in public areas, and in the homes when guests are present.
If your injury was due to negligence by an owner, operator, or manager of a property, you could be compensated for your medical costs and any needed future treatments, lost wage or diminished future earnings, and pain and suffering. If the injury was caused by reckless behavior, it is possible punitive damages might also be available.
Is Your Injury a Premises Liability Case?
If you think you or a member of your family has been injured on someone else's property, you should without delay get in touch with an experienced Tulsa premises liability attorney. These cases are often more complex than they may at first glance seem, and can present complex factual and legal issues.
The Tulsa Personal Injury Law Office handles numerous types of premises liability cases with competence and care. When you contact the Tulsa Personal Injury Law Office, you will be able to consult an experienced premises liability attorney, who will help you review your options and evaluate your claim, free of any cost or obligation to you. We will carefully examine and explain the issues involved.
Free Consultation: Tulsa Premises Liability Attorney
If you hire us to work on your case, we will clearly explain the process, and sign a written agreement with you making clear that you will not have to pay us attorney's fees or expenses unless you obtain for you a satisfactory settlement or win your case in court. For a free, confidential premise liability case evaluation contact us today at (918) 924-5528, toll free at (888) 447-7262 or send us a message using the form on the right side of this page.