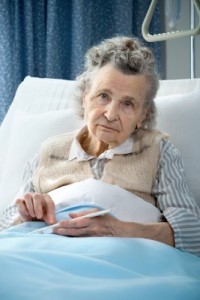 Deciding on a nursing home for a relative can be one of the most difficult decisions a family may have to make. Discovering their loved one has become a victim of neglect, abuse or mistreatment in the nursing home would make things much worse for the well-meaning family. If you think that may have happened to your family, you may need the services of a Tulsa nursing home negligence attorney.
Nursing homes, assisted-living centers and skilled nursing facilities are subject to extensive federal and state government designed to protect the physical and mental health of their residents. Unfortunately, serious lapses — even shocking cases of mistreatment — are far from rare. For example, a 2011 report by the inspector general of the Department of Health and Human Services reported widespread unlawful use of unnecessarily powerful, potentially deadly antipsychotic drugs in nursing homes that found it more convenient to sedate patients rather than to care for them.
The federal agency that oversees Medicare and Medicaid recently reported that, during a 12-month period that ended August, 2012, state inspectors visiting about 15,000 nursing homes nationwide found over 134,602 deficiencies; over half were rated as having the potential to cause more than minimal harm. The most common citations came for failure to prevent accidents, remove hazards or provide adequate supervision for residents. Inadequate control of infections was another common failing.
Nursing homes which properly follow established standards of care should not have patients become dehydrated or malnourished, or develop bed sores, which are not only painful but could also lead to worsened health or even death. In facilities with proper staffing and supervision, assault or abuse of helpless patients and failure to properly monitor or treat patients should not occur.
What to Do if You Have Experienced Nursing Home Negligence
At the Tulsa Personal Injury Law Office, we have the training and experience to handle difficult nursing home cases. If someone in your family may have suffered a serious injury due to poor or abusive care at a nursing home, assisted-living center, or long-term or skilled nursing facilities in Oklahoma, you owe it to them, and to yourself, to take up our offer of a consultation with our experts.
There is no cost or obligation to you for us to help you evaluate possible claims, and explore whether compensation should be paid for harm your loved one has suffered. That may not be adequate recompense for that harm to your loved one, but it can help hold accountable those responsible, and deter further negligence or worse, thus helping to prevent others from suffering similar harm.
Don't delay consulting one of our lawyers experienced in nursing home problems. That could cause legal complications. Moreover, it will only allow a sub-standard facility to continue providing inadequate, incompetent or abusive treatment to patients who should be treated with dignity and respect.
Free Consultation: Tulsa Nursing Home Negligence Attorney
At the Tulsa Personal Injury Law Office, you will receive a clear statement and a written agreement. It makes clear, if you hire us to work on a nursing home negligence case, you will only be charged for our legal services if we win the case or obtain a satisfactory settlement for you. Call us today at (918) 924-5528, toll free at (888) 447-7262 or send us a message using the form on the right side of this page.