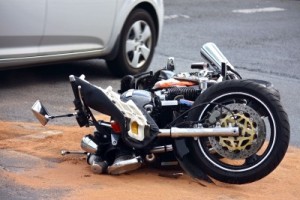 Motorcycle drivers and riders have the same rights and responsibilities as drivers and passengers of other vehicles. They face greater safety risks, however, and may have special difficulties holding accountable those responsible for injuries they experience. If you or a family member has been involved in a motorcycle accident in Oklahoma that has caused serious injury or death, you need a skilled Tulsa motorcycle accident attorney to get you justice.
Far more exposed than are drivers of trucks or cars, motorcyclists and riders are at far greater risk of being seriously injured, or even killed, in a motor vehicle accident. The US Department of Transportation's National Highway Transportation Safety Administration (NHTSA) says that in 2010, the risk of a fatal crash was about 30 times greater for motorcyclists than for autos, based on miles traveled per vehicle.
NHTSA has also noted that motorcyclists in 2009 accounted for 13% of all traffic deaths. The Motorcycle Safety Foundation says about 20% of motorcycle crashes result in head or neck injuries, which are the most common cause of serious injuries and fatalities. In i2011, Oklahoma saw almost 1,750 motorcycle accidents and 95 fatalities, according to the state Highway Safety Office.
Top Cause of Motorcycle Accidents: Careless Drivers
Careless or distracted car or truck drivers may fail to notice smaller, less visible vehicles like motorcycles, scooters and mopeds, or may drive negligently and put motorcyclists at risk of serious injury. One example, identified in a NHTSA-funded pilot study examining the causes and outcomes of motorcycle accidents, found that cars and trucks turning in intersections ahead of an oncoming motorcycle was the leading cause of accidents involving a motorcycle and another vehicle. Other motorcycle accidents can be caused by a lack of proper warnings about road hazards, or manufacturer defects in motorcycles or their parts.
On top of this, insurance companies may seek to evade or shortchange due compensation for motorcycle accidents, playing on difficulties of proof or even perceptions among some of the public that most motorcyclists are reckless drivers.
There's no doubt motorcycle accidents place significant costs on accident victims, their families and society in general. The Government Accountability Office, a Congressionally-created watchdog agency, in a November 2012 report estimated that motorcycle accidents in 2010 brought about $16 billion in direct costs. The GAO also noted harder-to-measure costs like long-term healthcare and disability costs were not included in the study, so the true costs of motorcycle accidents are likely to be even higher than that estimate.
What to Do if You Have Been Injured in a Motorcycle Accident
If you or a member of your family has been involved in a motorcycle accident, to help get the compensation you deserve, you should seek advice and assistance from a lawyer fully experienced with motorcycles, their handling dynamics, and the how motorcycle accidents occur. It is important that you do this without delay – since that could harm a claim you later file – and do so before you make statements about the accident or sign papers offered by another party's insurance company.
A motorcycle accident can raise serious practical difficulties and legal issues in determining who is at fault, evaluating damages and holding the driver of another vehicle or an insurance company responsible for your injuries and losses. Especially when there has been a catastrophic injury – such as traumatic brain damage, spinal cord damage, injured limbs, severe burns or lacerations – you will need expert counsel, thoroughly familiar with the often complex issues in motorcycle accidents, experienced with assembling the strongest possible case on what caused the accident, and gaining the medical and rehabilitation treatments needed.
Free Consultation: Tulsa Motorcycle Accident Attorney
Call the Tulsa Personal Injury Law Office right away for a free initial consultation. We will aggressively and effectively represent your interests in holding responsible any and all negligent parties following a motorcycle accident, and help you deal with the injuries and loss. We will treat you with consideration, and your case with the serious care it deserves. And we will fight all-out, inside or outside a courtroom, to ensure you get the compensation needed for medical and therapy bills, prescriptions, lost wages, and pain and suffering.
We will fully explain and give you a written agreement spelling out how we will help, and making clear that you will pay us attorney's fees only if we bring your case to a satisfactory conclusion. To get a Tulsa motorcycle accident lawyer experienced in getting fair compensation for crash victims, contact the Tulsa Personal Injury Law Office. There is no cost or obligation to you to consult with us, so there is absolutely no risk to you.
For a free consultation with an experienced Tulsa motorcycle accident attorney and confidential motorcycle injury case evaluation call (918) 924-5528 or toll free (888) 447-7262, or send us a message using the form on the right side of this page.