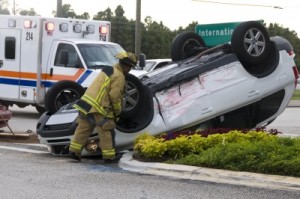 Watch a few television commercials and you'll know what insurance companies want you to do after a car crash. Like magic, your neighborly insurance adjuster will arrive on scene to make everything nice again.
That's what they want you to think. Your insurance agent may be a good neighbor, but a Tulsa car accident attorney knows insurance companies have their own reasons for racing in with a quick settlement after a car wreck. Sure, you paid them to help you out when you're involved in an accident. The other driver probably did the same thing – maybe even paying the same insurance company.
Do you think a company that can represent both parties in an accident wants to be sure the innocent driver gets paid for every cost associated with their other customer's bad driving?
They Lawyered Up: You Can, Too
When you've been injured in an accident that was the fault of another insured driver, an insurance company likely owes you compensation. They might even offer legal representation if a car-accident case goes to court. But their lawyers represent their interests. When you or a loved one has been injured in an automobile accident, a skilled car crash attorney can represent your interests. You might be surprised how often insurance adjusters adjust their opinions of an accident when a client brings an outside attorney to the table.
Oklahoma personal injury attorneys work to be sure their clients are fully compensated for all costs that have arisen or will eventually arise from an unfortunate accident. Before you sign a check from an insurance company — before you provide another driver's insurance company any information other than that required by law — contact an Oklahoma car accident attorney to find out what is the full value of your injury.
Tulsa Auto Negligence Attorneys
Despite laws that require all drivers to be financially responsible for damage or injuries they cause, some still refuse to carry insurance coverage. An uninsured driver might have avoided buying insurance even though they have money available. Even if you carry basic uninsured motorist coverage, your insurance company might try to offer you less than full compensation, reducing the loss they'll have to recoup from a dissembling driver.
Whether your traffic-related injury was a catastrophic disruption or minor inconvenience, if it was someone else's fault, someone likely owes you compensation. If the other driver was not adequately insured, you may need to file an auto negligence lawsuit to recover your losses.
When you have a personal injury attorney on your side, your attorney can make sure whatever settlement you're offered fully covers your losses. A car crash attorney can locate and secure assets a negligent driver might try to hide in an attempt to avoid paying out of pocket for the damage they caused.
Your insurance company might not be so eager to go as far as it takes to get you the compensation you deserve. Before you settle your claim involving a car accident, contact a qualified car crash accident attorney to today to find out if you're getting a square deal.
Free Car Accident Case Consultation: Call Today
If you've been recently injured in a car crash, or if your loved one was recently injured or killed in a car wreck that was someone else's fault, contact the Personal Injury Law Office of Tulsa. For a free consultation and car accident case evaluation, call Personal Injury Law Office of Tulsa today. Contact your personal injury counselor at (918) 924-5528, toll free at (888) 447-7262 or send us a question using the form on the right side of this page.